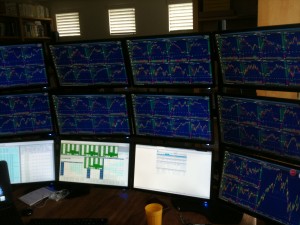 In this first post to my new blog, let me introduce myself as a full-time stock market day trader and libertarian. The picture above shows my trading workstation with 12 monitors where I sit at home every workday from 6 AM PST until after the market closes at 1 PM PST. I trade only for my own accounts, not for any company and not for hire. I intend to use this column to share my day trading war stories, my strategies, and my market opinions, and to share my occasional thoughts about the private property society as envisioned by Hans-Hermann Hoppe.
My goal is to reach out to other traders and wannabes to establish a network of libertarian traders here and at johnhoward.liberty.me. I welcome and encourage comments and questions about trading and about how to make money by doing this. I have nothing to sell! My interest is purely to network and to help other libertarians to take advantage of the opportunities available in day trading.
If the subject of day trading interests you, please stay tuned! Or feel free to introduce yourself or post a question if I have confused you already. 
 Thanks for reading!